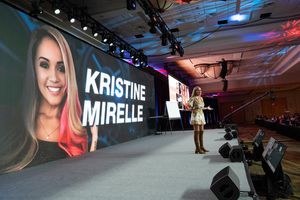 Professional Musician
Kristine Mirelle's life journey has been an interesting variety of adventures. From working in a tortilla factory, to homelessness for many years, to traveling 6 continents performing and sharing her music, Her love for life and exploration has given her a multitude of stories and lyrics to share with the world.  For ten years, she performed over 2500 shows in multiple countries and won 4 consecutive national piano competitions by the age of 13. 
She has performed nationally on Mercedes Benz Commercials, sang on globally aired Heineken commercials, she's performed the national anthem in the epic LA Dodgers stadium, has been published in Maxim, and placed top 10 on Simon Cowell's X Factor. 
After having her first son, she switched focus to helping other artists and musicians and founded her company, "Music Hustler".
Founder: Music Hustler
Kristine Mirelle founded her company "Music Hustler" to help artists build their own profitable music careers. Her books and courses have now served more than 45,000 artists around the world and her videos have reached more than 40 MILLION views worldwide.  She is passionate about teaching other musicians how they can make a living in the music industry without a record label, manager, or huge fan base. 
She produced the Las Vegas Based Conference "Music Hustler Live", where she brought in major record labels, platinum producers and songwriters, and gave the opportunity to aspiring artists and musicians to connect with music industry execs.  For more on her company, visit http://www.MusicHustler.com
Marketing and Entrepreneurship
Kristine also speaks in person at major marketing conferences sharing strategies and concepts in the field of marketing and advertising. 
She specializes in teaching how to create simple ads that convert, and how to make them funny and engaging. After achieving more than 40 MILLION views on her own ads while building her company "Music Hustler", she now shares her simple methods of how she's used a cell phone and humor to create ads that have generated multiple 7 figures across many  various types of businesses.  
She also owns an advertising agency, "Laugh My Ads Off" that runs and creates ads for companies varying from E-Commerce Brands to Information-Based Companies. 
For more info on her ads agency visit http://www.LaughMyAdsOff.com
Kristine also owns a Mexican Food Brand that is carried in Whole Foods, Sprouts, and 125 Grocery Stores across New Mexico and West Texas. 
Learn More at http://www.LilKristis.com